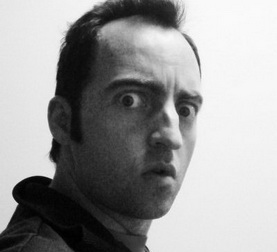 A composed level headed technical expert, fluent in the alchemy of creating invoking, juicy and bursting by the seams with *under breath* "HOLY SH#T!" images for those who demand eye and mind-gasms from their director of photography. Someone once said "Build it and they will come"…well I'm very comfortable with all cameras which are already built and use those to create your heavenly masterpieces…for everything else I will without hesitation pluck a DSLR from my resourceful bag of magic tricks and shoot in a frowned upon codec to capture feats of creativity even if the capitalist pigs *waves fist* have put monetary shackles on our pursuit of visual nirvana. Blasphemy!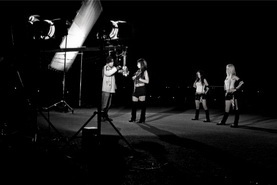 Shaded with a shanty middle-class cap (on sunny and bad hair days), which resembles none of the pristine white fedoras of the famed cinematographers of old, I will traverse the battlefield which we call "The Set". With questionable years of experience I will meticulously study our objective and plan our assault. I will call upon the demigods of the cinema, Deakin, Elswit, Lubezki and the list goes on, to bring forth the rains of creation. We will forever push back against the restraints put upon our creativity by production budgets, non-existent catering and clients who don't know what the hell they want. But push we will push, fight we will fight. Like the ocean waves which have sculpted the shores of our beloved earth and drawn the lines which shape our countries, we will crash against the walls of the production budget with vigorous force. Even when we break on the rocks of unmovable producers and blow away like mist in the wind of the creative bureaucrats, we shall persevere. Forever forward, forever filming.
Make no mistake...I'm no savant...I shoot from the heart...and sometimes on an empty stomach. Make no mistake…but when we do, we fix it…and not in post on set. Make no mistake…unless you are the production accountant…then you're on your own comrade…I have images to shoot. Make no mistake…creative work is like chasing a sunset…always moving…never finished…unless the AD stops you…or the producer starts directing…then it's a whole new kind of crazy.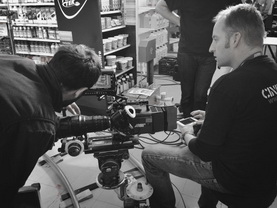 Over the years I have familiarised myself with and befriended rental houses, suppliers and the people of these fine filmmaking machines we use to capture the children of our imaginations. Some like me and some like me less. But I digress; at the tip of our fingers are tools and talents so incredible that we as mere humans have become the bottleneck as to what can be accomplished. We live in exciting times! A gigantic vision and sense of purpose is more important than a voluptuous budget** (eating and paying the bills are overrated…right?). It fuels our internal passion combustion engines which in turn revs up our creative cam belts which in turn drives all our other important components like the determination alternator, inspiration air-conditioner compressor and last but not least our growth power steering pump. Oomph, oomph, oomph!
Now that I have put your mind in a state of euphoria I will be right here waiting for your call.
**and we all know that you producers *raised eyebrows and pointing* have exploited this as a caveat, so I acknowledge your grin…